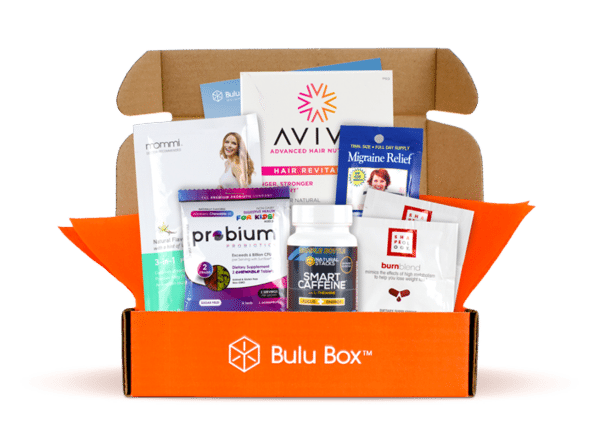 There are so many supplement and nutrition products out there. How do you know if any of them work, besides reading a review. What if you could try a sample and decide if you want to actually buy it? You can do just that with a subscription to Bulu Box. Essentially it's a sample box of nutritional supplements you can try every month. If you like something in the box and want more of it, then you can buy that separately. I myself do not have a subscription (yet), but here's what my research has revealed so far:
Product Subscription to Bulu Box
What you get Sample box with 4-5  samples of either vitamin or weight loss supplements.
Cost $ 10.00 monthly or upfront: $30 for 3 mths, $60 for 6 mths and $110.00 for 12 mths.
Anything else ? Lots of promotions, discounts and a rewards program for points earned for giving reviews.
The Box Every month you get a box with about 4-5 supplement samples to try, and if you like one, then you can purchase a full size amount of that particular sample. You either get a box of vitamin supplements or weight loss supplements. This depends on what you choose when you fill out your profile. Bulu Box tries to give samples in either category, based on criteria you set, during your subscription set up. Shipping is always free.
The Good Most people seem satisfied with the service and like the surprise of new samples to try every month. As mentioned earlier, shipping is free. There is a rewards program where you can fill out sample surveys and earn at least 50 points ($5.00) each month. You can use your points for purchasing full size amounts of your favorite samples. There are other ways to earn points, so you can potentially have some good discounts on full size purchases. Some examples are shown below:
Earn 20 points for completing your 

User Profile

Earn 50 points for each $10 Bulu Box you pay for in your month-to-month subscription.
Earn 1 point for every $2 spent on full-size products.
Earn 50 points for each friend you invite that signs up
Earn 10 points for each sample survey you complete. There's at least 4 each month
There are always promotions or coupons that you can apply to your purchases, so look out for those. Plus, you get to try some new health product that you would not have ordinarily been exposed to.
The not so good This really depends on how you look at things. Some customers have complained that Bulu Box sometimes ignore their preferences when sending out supplements. As an example, one subscriber made it clear "no caffeine" and would still receive samples with caffeine. Occasionally you can get 1 or 2 sample repeats of the previous month's Bulu Box. Another consumer complaint, is that sometimes, there is not enough of a sample to properly evaluate its effectiveness, despite Bulu Box's claim that they always send enough to evaluate. Not everything is approved by the FDA and you have to understand that some claims may not be tested. Also, not everyone is going to like everything they receive in their box all the time. But, this is just the nature of the bizz. You won't always find your favorites.
Pros

Box of nutritional samples each month to evaluate
Chance to try new health products you normally won't be exposed to
New samples each month
Rewards program to earn points towards full size purchases
Promotions and coupons for more discounts
Access to weight loss and health tips with a large community
Free shipping
Cons
Some repeats of previous month's samples in new Bulu Box
Bulu Box sometimes ignores preferences when sending samples
Sometimes not enough of a sample to properly evaluate
You get either weight loss or vitamin supplements only and is not fully customizable (They're working on it)
Not all products or claims are FDA approved
Final thoughts Bulu Box is great if you're interested in finding out about the latest weight loss and vitamin supplements at a really low price. It can be a fun surprise to see what you get in each month's box. There are a number of ways to earn points towards discounts of full size portions of a sample. Bulu Box has to definitely work towards paying more attention to peoples' preferences in their profiles as well as providing more of a sample size to evaluate. These seem to be the biggest complaints. Also, not everything is FDA approved, so it's up to you to decide whether or not you want to give it a go. But, overall, Bulugans (They call themselves that…no joke) seem to be happy with their subscription. If you're interested in a subscription or want information check it out here.