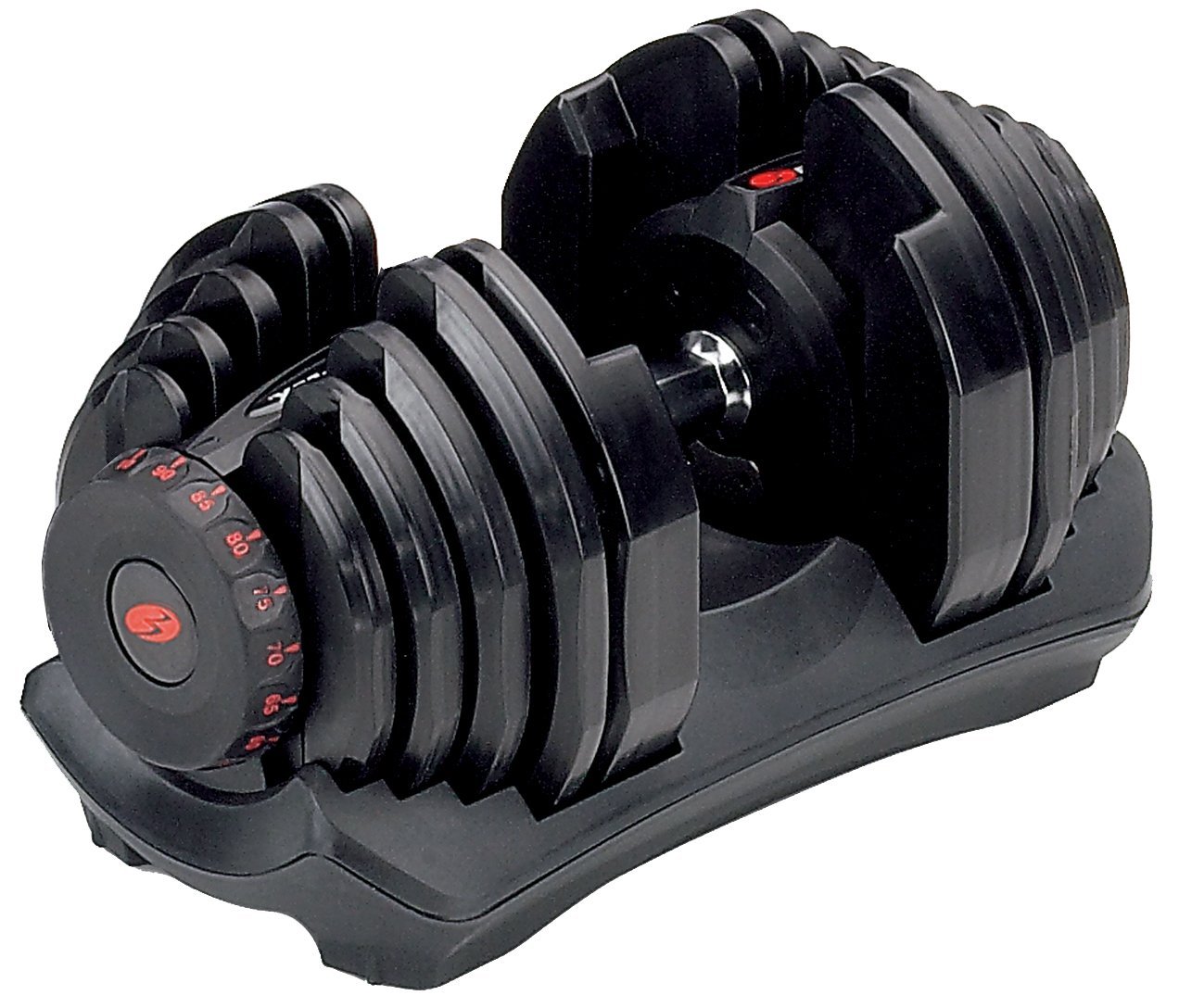 Bowflex SelectTech 552: For speed and convenience
So, you don't like going to the gym and prefer to workout at home or maybe in the office. You've found some simple exercises you like and want to add some resistance. A good choice for many is using dumbbells. But, I don't have extra storage room and don't want to clutter up what little space I have with a bunch of dumbbells. Well, in that case a good option for you would be an adjustable dumbbell set. Takes up very little room, and with a quick flip of a dial, you go from a light to heavy weight and back. Simple as pie. Let's look at a popular one on the market today, the The Bowflex SelectTech 552. I myself have not tried it, but I have researched all the forums and user comments, complaints and suggestions to give you a review of all the reviews. Here is what I've found:
Produ
ct The Bowflex SelectTech 552
Cheapest Price $285-295 on amazon(Pair)
Guarantee 2 year warranty on plate and parts
Specs The dimensions for the dumbbell are approximately 16″ L x 8″ W x 9″ H (40 x 20 x 23 cm). This a pretty large and can make them a bit bulky and difficult to use for some exercises. Most people seem to be able to adapt to it. There are 15 weight settings starting from 5 lbs and incrementing by 2.5 lbs up to 25 lbs and then by 5 lbs up to 50 lbs. There is an additional 52.5 setting. Not really sure why they just didn't go up to 55 lbs.
Features The durable molding around the weights provide for a quieter workout, if you care about such things. Weights are adjustable up to 52.5 lbs which give a combined weight of 105 lbs. Adjustments of the weights are simple and quick, by turning a dial to desired setting. Many people also seem to like the traditional look and feel of the weights.
The Good It does not take up a lot of space. It also replaces about 15 different dumbbells you would have had to get to have the same weight range. So for a pair, that means 30. Can you imagine having 30 dumbbells lying around your office or work area at home. It takes less than 5 secs. to change the weight. Just turn the dial till it clicks and you have your desired weight. Reviews are very positive with an average of about 4.8 stars out of 5 on amazon
, from 2,484 reviews. Customers seem to love this product.
The not so good I don't really like to say bad. But there are a few things that people have complained about. The bulkiness of it takes some getting used to. Some exercises are difficult to perform due to the 16" length. If you want to do incline, flat dumbbell or shoulder press, you gonna have to make some adjustments to accommodate the extra length of the dumbbell. Okay, here is a complaint that I find amusing…The parts can be damaged when dropping the dumbbells on the floor. What did you expect? Do you really have to throw them on the floor after a workout? Just set them down in their containers and things should be fine. If you accidentally drop them, then yes, you will damage them and break something. So maybe it may take some getting used to if you are accustomed to the solid piece of metal in the gym. Now, if you read some of the reviews in various forums online, a big complaint was the plastic locking tab breaking and weights falling out. Check the date of these reviews. If it's around 2008, this was a problem. Bowflex have now replaced the plastic with metal tabs. Bear in mind this was one of the biggest complaints. Also, the sticking experienced by some consumers, when trying to pull the weights out of the container which eventually goes away.
Pros
Easy to change weights
Fast change time
Weights go from 5-52.5 lbs in increments of 2.5 and 5 lbs
Replaces about 30 dumbbells
Has a traditional look and good feel to them
2 year warranty on all parts
Cons
Bulky and length may limit some exercises
Has multiple parts which can be damaged if dumbbell is dropped on the floor
Weights might stick when trying to pull them out
Final thoughts The Bowflex SelectTech 552
is a great product with excellent reviews. The negative reviews mostly revolve around the plastic tabs breaking and plates falling out. These have been replaced by metal ones and this is not really a problem. If you drop them on the floor they will become defective, the dial won't work and you may also do damage to the metal tabs. If you take care of them, you should be fine. Just set them back securely in their tray after use. For a great deal, check them out here
.