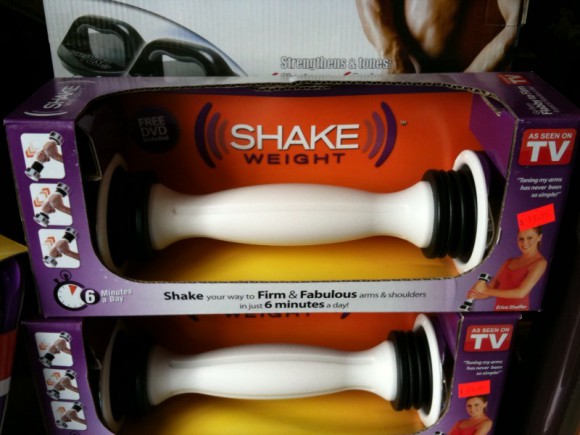 Does The Shake Weight Really Work ?
Okay, so we've all seen by now, the infomercials with the model holding the dumbbell shaking. We've all had a good laugh and made the usual jokes about what it may or may not look like. But the question remains, does the shake weight really work? First things first.
What is the shake weight? The shake weight is a 2.5 (female version) or 5 lb (male version) weight sold  by FitnessIQ. It is essentially a modified dumbbell with weights at either end attached to a spring. As you shake it, the weights oscillate working various muscles.
Claims According to the manufacturer, the shake weight makes use of dynamic inertia to work the upper body (arms, shoulder, chest) in 6 mins a day. They claim that: "studies at a prestigious California university prove that the Shake Weight increases upper body muscle activity by more than 300% compared to traditional weights." The study was done at San Diego State University, under Dr. Daniel Cipriani, an associate professor in the department of Exercise Physiology. They made use of EMG (Electromyograph) monitoring to measure muscle activity and to compare to similar exercises with a regular dumbbell.
Truth The study referenced, for the effectiveness of the shake weight, is not published in any peer reviewed journal (reputable or otherwise) anywhere. So the claims are dubious at best. Muscles respond when they are continually challenged through increasing resistance. The shake weight is not adjustable and provides the same resistance throughout the fixed 6 min workout. Any long term benefit seems unlikely. Now according to another study (peer reviewed), the shake weight did not show any advantage of the dumbbell for any exercise or muscle group worked. The exercises performed were the chest shake (CS), biceps shake (BS), and triceps shake (TS). None of the exercises did enough to increase muscular strength. As for getting rid of arm flab, sorry to burst your bubble, but the idea of spot reducing fat is ridiculous. You lose fat everywhere and not one specific place.
Bottom line If you've never worked out in your life, you might see some initial benefit from the shake weight. Doing something is better than nothing, I suppose. Are you going to pack on muscle or tone up? Hardly likely. To become toned you need to work on diet to lose fat. Maybe you can buy it and workout for more than 6 mins and continually increase the length of the workout for each body part targeted. That might work. I would suggest that you go to a gym or buy
a set of regular dumbbells and do more traditional exercises before I recommend the shake weight. Check out my review of the Bowflex SelectTech 552 dumbbell set.
Photo of shake weight by Rod Herrera under a CC by 2.0 license