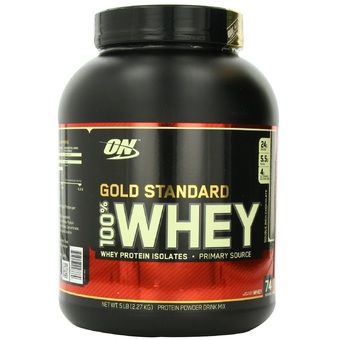 So, I've added another protein powder to the mix. It took a while, but I have another review for you. Generally, I don't use protein powders…not that I'm saying it's good or bad. I'm not a bodybuilder, I do have time to eat all the meals I need, so right now it's pretty easy for me to get all the nutrition I need.
Now, when things pick up a little, and I become super busy, it will be a bit different and I would probably start using some whey protein again. Let me be clear, if you're not a strength and bodybuilding person or some sort of super athlete, I don't really see why you would need to supplement. Unless, you're skipping meals (Super busy schedule) and using the whey protein as a replacement. Otherwise, just get your protein from whole foods. Having said that, today we'll look at Optimum Nutrition 100% Whey Gold Standard
 protein powder.                                  
Product Optimum Nutrition 100% Whey Gold Standard
Price $ 52-57.99
 5 lb container
Serving size 1 scoop
Nutrient profile  For a single serving size containing, which is 1 scoop, there are 120 calories which is great for a protein supplement.
Protein- 24 g
Total Fat-1 g
Cholesterol-30 mg
Carbohydrates-3 g
Sodium-60 mg
Sugars-1 g
Not too shabby, mostly whey protein, about 79% (yes, I know it doesn't quite work out to 79%, but I left out some trace stuff). Now, this is generally what you find in this brand. It can vary a little, depending on the flavor you choose. Some flavors have sucralose as a sweetener.
The Good It contains mostly whey protein, about 79% by weight and has about 5 g of BCAA's (helps with recovery)per scoop. I've tried this product (chocolate) and will agree with people who say it mixes well….and I also like the chocolate flavor. I've never tried it in a shaker, but a few seconds of blending and it's pretty smooth, without any clumps. If you don't like a particular flavor, they have 24 in total for you to try. This product contains  HydroWhey low molecular weight and specially hydrolyzed whey peptides. This makes Optimum Nutrition 100% Whey Gold Standard a fast acting protein since the peptides are more easily absorbed by the body. Reviews are positive, with an average of about 4.6 stars out of 5 on amazon, from 14,353 reviews. Customers are generally satisfied.
The not so good Okay, Here we go. Let's start with taste. Some flavors are very sweet (sickeningly sweet…also been told vanilla sucks). The reason for this is the addition of sucralose, which also gives a slightly bitter aftertaste. So is sucralose bad? Well, the jury is out on this one. There have not been sufficient long term studies done on this artificial sweetener to determine whether it is absolutely safe or not. If this is concern of yours, then check the ingredient profile and get the flavors without sucralose. In future, I will do a research article on sucralose. But for now, I will give my experience. The first time I used a product with sucralose, I threw up. I did a little research and found that it happens to some people (not everyone by any means). But, I have tried it a few more times without any effects. I just thought you should know. Like I said before, try a flavor without sucralose, if there are concerns.
Pros
Mostly protein, about 79% by weight
Contains about 5 g of BCAAs
Fast acting and aids in recovery
Easy to mix
Comes in a variety of flavors
Low calorie
Fair price for what is provide
Cons
Some flavors contain sucralose. Those that do, are extremely sweet.
Undetermined: effects of sucralose
Final thoughts Optimum Nutrition 100% Whey Gold Standard
 is a solid protein supplement with generally great reviews. It mixes well with any liquid and is fast acting, which makes it a good post workout supplement.The negative reviews mostly revolve around taste and concern over the effects of sucralose. There are certain flavors that contain sucralose and others that don't. Now, there are other protein powders that are slightly more expensive, but absolutely do not contain any artificial sweeteners (Jay Robb's Whey Protein). So, you have all the information that you need, it's up to you, to choose.