What is Orangetheory Fitness?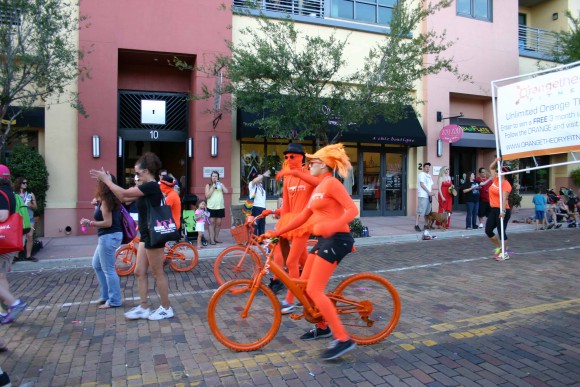 Up until 2 weeks ago, I had never heard of this. Don't get me wrong, I know what an orange is (fruit?…) and I know what theory means (didn't Einstein have one…or two?).
I'd just never heard of them used together with fitness. I only learnt about it through someone who was doing it, which is kinda bad…I thought I was up to date about the latest fitness trends (~ 7 yrs old). Now, the caption is a little bit misleading, Orangetheory has nothing to do with looking like a Cheeto. Read on…
What is Orangetheory fitness? It is a high intensity interval training (HIIT) workout started by Ellen Latham, out of  Ft. Lauderdale, Florida. Incidentally she has a M.S. in Exercise Physiology. Okay, pretty good credentials. The aim of the workout (which can incorporate various exercises) is to keep your heart rate in the orange zone (explains a few things…okay one thing) which is 84-91% of your maximal heart rate (220-age beats/min). This is done by wearing heart monitors and observing your real time readings as displayed on a screen. Workouts are 1 hr long and broken up into cardio and strength training. They are designed to have you work through 5 zones with 12 to 20 mins training at 84 % or higher of the maximal heart rate (zone's 4 and 5). All of this is done in an a room or studio, probably decorated by Chester, the Cheetos Cheetah (tons of orange).
Claims The workout causes you to go into a state of "excess post oxygen consumption" (EPOC) which results in an after burn, where your metabolism is elevated for 24 to 36 hours afterwards. Typical calorie burn during the class can be anywhere from 500-1000 calories. On the website  it doesn't actually say how much the after burn accounts for. Just a confusing "when combining the amazing workout with EPOC, our clients burn an average of 500 to 1000 calories". I'm still assuming the 500-1000 is just in the class and not with the after burn included.
Truth Studies have shown that there is an after burn [1, 2, 3] when doing HIIT activities or training above 70 % of the maximal heart rate. The length of the after burn varied anywhere from 3-24 hrs following a HIIT workout. Seems promising…so what's the problem? Yeah, well, you still didn't quantify how much calories that translates into. One website claims that according to Ellen Latham, the caloric after burn can be from 200-400 more calories than the workout. This is supposed to equate to 40%. So if I burn 1000 calories in the class, then that's a total of 1400 calories…total. I have never come across the supposed 40 %, in any search for published studies. Trust me I've gone through way more published studies than I mention in this post. I really don't know where this 40 % comes from. A review (examined multiple studies over many years) found that EPOC only accounted for about 6-15 % of the total oxygen cost [1]. In comparison to steady state low intensity exercise, EPOC could be 13-14% for HIIT  vs 7% for the low intensity exercises. So, you say  double, that's a lot?…right? Well, if you burn 1000 calories  in a workout, then that works out to be an extra 140 calories for HIIT and 70 for low intensity training (140 still < 200-400). Doesn't really seem like much for either when compared to the number of calories consumed in the actual workout. Also, it is well-known that the EPOC tends to be greater for beginners than for someone who is athletic and accustomed to high intensity exercise. Most people aren't going to get anywhere near 1000 calories in a workout anyway, unless you're very athletic to begin with.
Conclusion There is an after burn due to HIIT workouts like Orangetheory…no arguments here. However, it isn't as great as you might think. I'm not bashing HIIT or Orangetheory in any way. There are many benefits of high intensity exercises on athletic performance and overall cardiovascular health…no doubt. Any extra caloric burn is a bonus…great it will help, but some claims in terms of fat loss and amount of calories burnt are exaggerated. Don't get carried away and feel as though you can eat what you want and  then go to your Orangetheory class and all will be okay. The battle of the bulge is won or lost in the kitchen. You can't bike, row or kettle bell away a bad diet. Yes, exercise for health and as an aid to fat loss, but focus on eating a healthy diet, free of simple carbs and sugars, if you intend to win the battle. Hey, if you like this post don't forget to share.
P.S. The Healthy Goat was last seen being escorted out of an Orangetheory fitness studio. He mistakenly thought he was at a Cheetos convention (because of all the orange) and kept yelling "It's not easy being cheesy" (As much as a goat can yell… or talk).
Photo by Jeff Kern under a CC BY-2.0 license