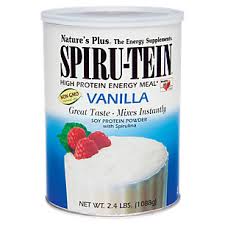 I just started using a new protein powder (I usually don't). But lately, I haven't been getting enough from foods (been a little busy) and found myself trying Nature's Plus Spiru-Tein
 protein powder. It's not the typical protein bodybuilders would normally recommend. But, I'm not a bodybuilder and it seems to be working for me. Touted as a meal replacement, Nature's Plus Spiru-Tein
definitely has some good things going for it. Let's take a look.
Product Nature's Plus Spiru-Tein 
Price $ 31-35.00  2.4 lb container
Serving size 1 scoop
Nutrient profile  For a single serving size containing, which is 1 scoop, there are 96 calories which is excellent for a protein supplement. The protein content is on the lower side with 14 g of protein. The nutrient profile is given below, pay close attention to the vitamin and other micro nutrients.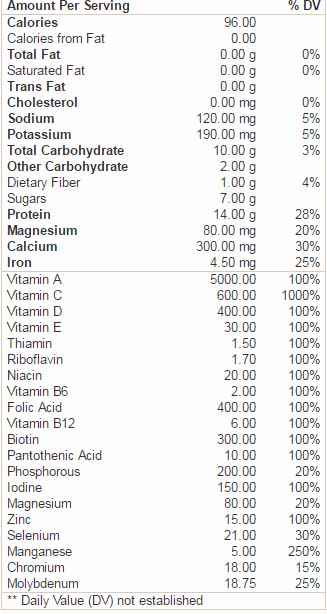 It has, in addition to protein (rice, pea and soy), all the vitamins you could possibly need and has a healthy dose of manganese (aids bone building and helps with minimizing free radical damage).
The Good Nature's Plus Spiru-Tein has a full complement of vitamins and all essential amino acids that come from rice, pea and soy. It also contains Lecithin, Spirulina, Choline and Inositol which have been claimed to help with weight loss (these claims have yet to be tested under rigorous research). I've tried the vanilla and I like the taste despite what others have said….and I also like the chocolate and banana flavors. I've never tried it in a shaker, but a few seconds of blending and it's pretty smooth, without any clumps, although it has a grainy consistency to it.
If you don't like a particular flavor, they have a multitude of other flavors to try. This protein supplement has the full complement of vitamins and other essential micronutrients. Reviews are positive, with an average of about 4.6 stars out of 5 on amazon, from 420 reviews. Customers are generally satisfied.
The not so good We always start with the taste.  Some flavors are very sweet (sickeningly sweet…also been told vanilla sucks).Some people have said the vanilla flavor is terrible and has an off putting greenish hue to it. It is true that it is somewhat greenish, but I love the taste. It does have a slight grainy consistency to it. It can clump together when mixed in a glass of milk or water, but no problem when blended. As a meal replacement, it is probably not the best and doesn't really stave off hunger. Don't get me wrong, it can make you feel satiated, but for a short period, then you're hungry again. It is a little on the expensive side compared to other meal replacements.
Pros
Contains 14 g of protein
Contains all essential amino acids
Comes in a variety of flavors
Very low calorie
Full vitamin profile and other micro nutrients
Gluten and yeast free
Cons
Somewhat grainy consistency
Only has 14 g of protein compared to 24 g contained in other supplements
Not the best for meal replacement
More expensive than similar meal replacements
Does contain sugar
Final thoughts Nature's Plus Spiru-Tein is a good protein supplement with generally favorable reviews. It may not have as much protein as most other supplements on the market, but it has a full vitamin profile along with other essential nutrients. As far as meal replacement goes, it does have a low calorie count, but does not really stave off hunger as claimed. It won't clump if you mix it in a blender, but mixing in a glass or shaker does cause clumping. They do have a number of great flavors to choose from, if a particular one does not work for you. It is definitely worth a try.