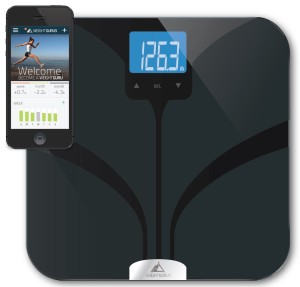 As part of your quest to lose fat/weight, you need to keep track of your progress in one way or the other. The most popular way is too measure your weight on a scale. There are a number of bathroom scales out there. From your typical digital scale (just stand on it and it gives you your weight) to more high end smart scales which record your fat percentage and can sync with your smart phone to record your data. Here's a popular one you might want to check out, that's gotten a lot of good reviews: Weight Gurus Digital Glass Bathroom Scale
Based on all the comments and research on this scale here's what I can tell you about it.

Product Weight Gurus Digital Glass Bathroom Scale
Cheapest Price $11.85
Guarantee 5 year warranty on damages and defects
Specs
An extra-large, backlit LCD screen (4.3′).  

Non-slip, scratch-resistant feet keep the scale in place without damaging your floors.

4 weighing sensors work together to give more precise readings, with a resolution of +/- 0.1 lb.

Large, tempered glass weighing platform supports up to 400 pounds. 4 AAA batteries included.

Black in color.
Dimensions are 12.20 x 12.20 x 0.08 Inches.
Features
The 

scale conveniently syncs to your smartphone using the free Weight Gurus app. Simple to transfer your measurements by scanning a barcode with your smartphone's camera. No pairing necessary- point your camera towards your scale's display screen to sync.

Store results in the Weight Gurus app, which is also designed for use with the following platforms: FITBIT, Apple's Health app, and Google Fit.

Step on to activate the scale — it calibrates automatically, and turns off after you finish weighing.

Supports up to 8 users.
Weightless technology lets you track weight by how much you weigh (e.g. 190lbs) or by how much you've lost (e.g. -10 lbs)
Measures Body Fat, Lean Mass, Water Weight and Bone Mass
The Good It fits nicely in any bathroom. It is very affordable and won't set you back an arm and a leg. It measures body fat, lean mass, water weight and bone mass, so you could make sure you're losing weight through fat loss vs water weight. Multiple (8) people in your household can use the scale and have their data stored conveniently and uploaded to their phones. Reviews are very positive with an average of about 4.1 stars out of 5 on Amazon
, from over 212 reviews. Prices start as as low as $11.85
This is pretty damn good.
The not so good Like with any product, there are bound to a few people who aren't satisfied with some feature. One complaint is that it doesn't automatically store data to your phone. You have to scan the display on the scale using the app on your phone to upload data. This is a tiny extra step, but apparently some people find this annoying. But for the price you're paying for this and what you would have to pay for a more high end scale, I think you can live with that.
Supports up to 400 lbs
5 year warranty on damages and repairs
Supports multiple users
Measures multiple markers: Body Fat, Lean Mass, Water Weight and Bone Mass
Free app to upload and store data
Excellent customer support
Cons
Does not automatically upload data to your smart device.
Takes about 15 s to show the data.
Final thoughts The Weight Gurus Digital Glass Bathroom Scale
 is a a middle of the road, smart scale. It doesn't automatically upload your data for you. You have to scan or take a pic of the screen yourself. But, you do get measurements of body fat, weight loss or an absolute number for weight. For the price, it has some great features. Try this Scale today and let us know what you think.