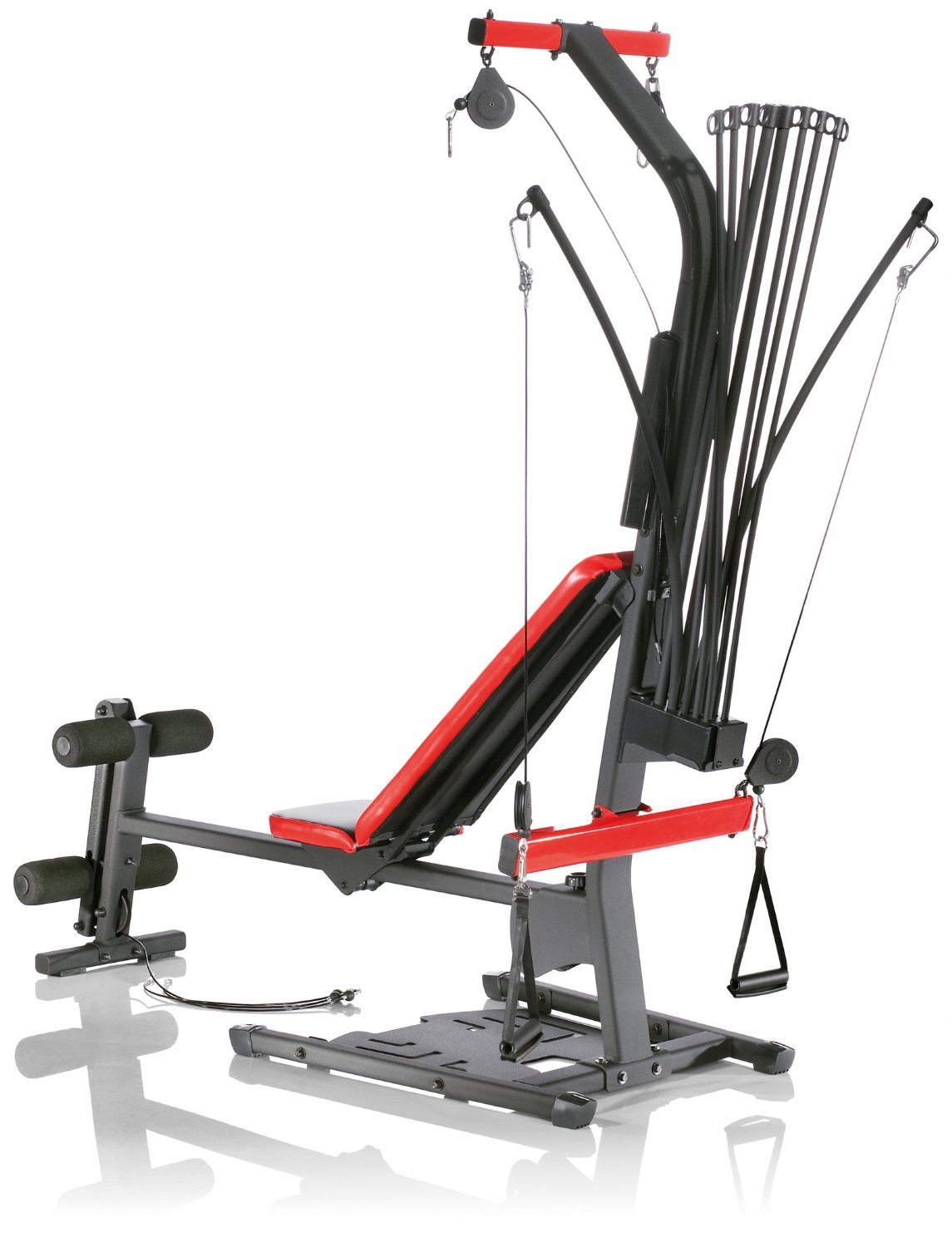 Last week we looked at the  Marcy Diamond Elite Smith System with Linear Bearings
, a high end home gym. I promised this week we would look at a cheaper alternative. So, today we will discus the Bowflex PR1000 Home Gym
. It's definitely more wallet friendly, but it really comes down to what you want in a home gym. As usual, I'm presenting you with information that I have researched, from forums, user comments, complaints and suggestions, to give you a meta review. Here is what I've found:
Product Bowflex PR1000 Home Gym
Cheapest Price
$680.00
Guarantee Frame – one year; Rods – five years; Parts – 60 days
Specs The Bowflex PR1000 Home Gym is 84" L x 38" W x 81" H. The minimum workout area is 100″ x 78″. According to Bowflex, the gym can support a maximum user weight of 300 pounds. The maximum resistance that can generated is 210 pounds and shipping weight is 131 lbs.
Features It sports 4″ upholstered roller cushions for leg extension and leg curl, a Horizontal bench press, hand grips for lat pull downs and a rowing machine. It can be folded for easy storage. On the machine itself there are  workout placard displays with workout descriptions for easy reference, so you can make sure you're doing the exercise properly. There are over 30 exercises that can be performed on this machine. The PR1000 utilizes power rods, which provide resistance, or weight. You can hook anywhere from 1 to 4 or all of your Power Rod units to the cable pulley system which enables you to go from 5 lbs up to 210 pounds of resistance. Your choice.
The Good You can perform a wide variety of exercises at least 30 of them. which includes both upper and lower body. It's cheap and easy on your pocket.
The not so good You can only go up to 210 lbs. If you're an advance lifter accustomed to some serious poundage, this is not for you. It is more suited for beginner to intermediate level lifters. There is no instructional video to explain workouts, or how to use.
Pros

Versatile, can perform at least 30 different exercises
Supports both upper and lower body workouts
It does not take up a lot of space, 100″ x 78″ and can be folded for storage
Scalable resistance from 5 lbs to 210 lbs
Has a warranty: Frame – one year; Rods – five years; Parts – 60 days
Budget friendly
Cons
Resistance only goes up to 210 lbs
Can't upgrade
No instructional video
Final thoughts The Bowflex PR1000 Home Gym is a very budget friendly versatile home gym. If you're a beginner or even intermediate lifter, this is a good setup for you. If you're advanced then not so much, unless you're interested in doing repetitions. It doesn't have the best warranty, but not too many people seem to have a problem with that. Lastly, there is no instructional video, but you can go on Youtube and find lots of demos and workouts. All in all not a bad buy if you're not into serious weightlifting. If you're interested you can check it out here
.